Cellulite Treatment Machines
Triple-action technology combats Cellulite: Get the latest devices to offer
revolutionary treatments
Advanced Non-Surgical Treatment Solutions
Grow Your Business With Cellulite Treatment Machines
Cellulite is a common condition caused by fat deposits that push against the skin's connective tissue, giving it a dimpled or lumpy texture and appearance. Although cellulite is medically harmless, it is most common in women and can impact their self-esteem and body confidence.
At CliniMed, we offer a range of cellulite reduction machines that can help reduce cellulite's appearance while smoothing skin texture. Equipped with the latest technologies, our cellulite reduction machines are safe, effective, pain-free and will deliver your clients long-lasting results with minimal downtime or aftercare.

Diminish Cellulite With PowerShape2
Clinically proven to provide stable results, PowerShape2 works to tighten, smooth, and sculpt the skin, so it offers a firmer, more rejuvenated appearance. In the hands of a professional, this proven and sought-after cellulite reduction device penetrates the deepest skin layers to selectively heat the skin tissue and cellular matrix where collagen fibres are embedded. The localised heating regenerates collagen and elastin production to improve skin laxity and texture while providing a much-needed dose of hydration.
Merging three powerful technologies — Bipolar Radio-Frequency, Low-Level Laser, and Vacuum Roller technology — PowerShape2 is undoubtedly one of the best cellulite treatment machines that guarantee long-lasting results. With no downtime or recovery needed post-treatment, PowerShape2 will enhance your clinic offerings and provide consistent results while increasing client turn-around time.
One of the most innovative, science-backed cellulite treatment machines on the market,
PowerShape2 provides the following benefits:
• Profound toning, regardless of the patient's age
• Reduces and treats hypertrophic scarring and keloid tissue
• Reduces stretch marks and prevents their appearance
• Visible improvement of the skin right after the first treatment
• Mitigates the visual appearance of cellulite
Ready to learn more? Request the PowerShape2 brochure.
Discover CliniMed Aesthetics' Range Of Innovative Cellulite Reduction Machines
CliniMed Aesthetics is a trusted leader in providing high-performing cellulite reduction machines. Our cellulite treatment devices enable aestheticians, therapists, practitioners, practice staff and clinic owners to offer advanced cellulite reduction therapies that boost the clients' body confidence while reaching their aesthetic goals.
As Australian-owned and operated distributors of science-backed non-surgical aesthetic machines and devices, we deliver opportunities that allow specialists to meet the growing demand for tailored, pain-free and non-surgical body shaping and contouring treatments. We've partnered with leading global manufacturers that have developed some of the best cellulite treatment machines — so you can rest assured of each device's efficacy and performance.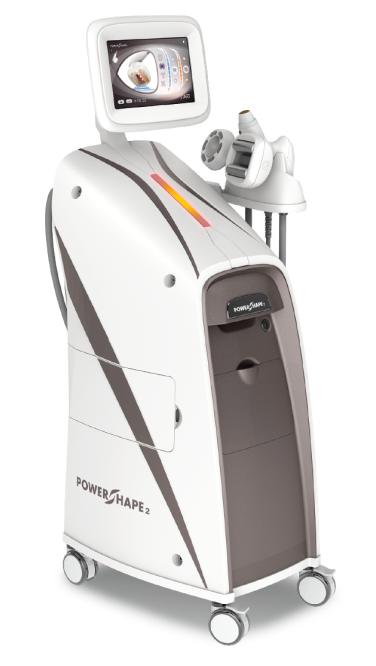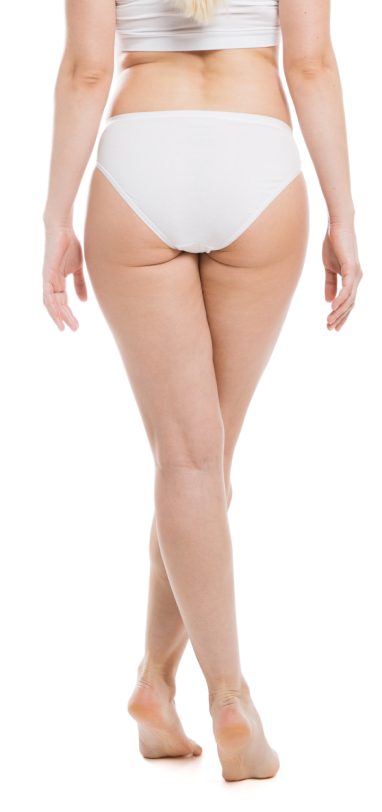 In medical terms, cellulite forms when pockets of fat squeeze between bands of tissue under the skin. These bands (septa – a thin wall or membrane that separates two parts), are supposed to hold fat in place, but depending on genetics, fat cells can squeeze between the septa, creating a lumpy cellulite 'dimple' look. Men, however, rarely have cellulite, because for men the bands of skin tissue – septa, that keep fat in place are in a criss-cross pattern, making them stronger than those in women, whose septa run in parallel lines.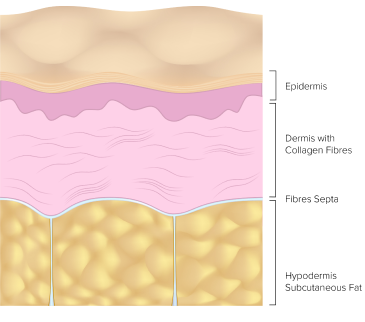 Image above – layers of skin tissue affected by fat cells pushing between fibres septa, creating the formation of cellulite.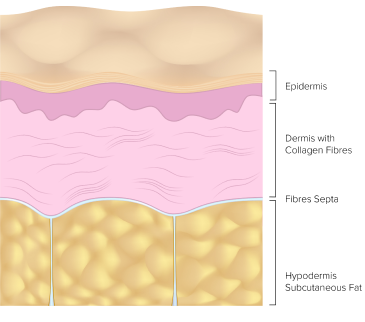 Image above – layers of skin tissue unaffected by fat cells pushing between the septa.
Why choose body contouring machines from CliniMed Aesthetics
At CliniMed Aesthetics, we specialise in offering innovative, clinically-proven, non-invasive aesthetic treatment devices. We are dedicated to providing Australian businesses, clinic owners, aestheticians and practitioners with state-of-the- art handpieces to elevate their patients' experience and help them reach their body goals. Our aesthetic machines and devices offer a diverse range of treatment options, including age renewal, body contouring and more.
Do you have an unused or outdated aesthetic device that no longer serves its purpose? Take advantage of our aesthetic devices exchange and upgrade service and check if you are eligible to trade your old instrument for a brand-new model!
If you have any questions about how to start your own body contouring business or are ready to enhance your clients' experience and grow your treatment offerings with non-surgical aesthetic solutions, contact us to speak to our sales and support team. Alternatively, you can use our store locator to find a CliniMed provider near you.
Frequently Asked Questions
What causes cellulite?
Cellulite is very common, mostly around the thighs and buttocks, but it can also be found on the breasts, lower abdomen and upper arms. Cellulite is a harmless skin condition that appears as lumpy, dimpled flesh on the thighs, hips, buttocks and abdomen. Cellulite is most prevalent in women.
Cellulite is sometimes described as having a cottage cheese or orange peel texture.
Mild cellulite can be seen only if you pinch the skin in an area where a patient may have cellulite, such as the thighs. Cellulite that is more severe appears rumpled and bumpy with areas of peaks and valleys. Cellulite is often associated with hormonal changes, weight gain, severe weight loss, genetic disposition or poor diet.
I would like to find out more about the body contouring devices CliniMed Aesthetics supplies & instals across Australia?
CliniMed Aesthetics supplies only TGA Certified body contouring and sculpting machines. For all device pricing & consumables costings, contact our National Sales Support Team or call 1300 10 10 58 to find our more.
What is a CMA Trade-In?
Does CMA offer finance for my chosen device/s?
CMA accept several relevant solutions within the market, complimenting your business requirements & ROI. Please 
contact us
 to find out more.
Does CMA offer maintenance & servicing options?
Yes, All our device maintenance warranty/extended plans include regular scheduled/optional servicing. Within our rigorous servicing checks, be rest assured that all your equipment – whether loan or purchased – will arrive fully-functioning, factory specified & ready to operate. Along with our Service Technician, who will provide on-site device set-up, inclusive of an operations functionality & anaylsis report, all with minimal interruption to your daily operations.
How can I learn more about the cellulite treatment devices CliniMed Aesthetics supplies and instals?
CliniMed Aesthetics supplies only the best cellulite treatment machines backed by the latest cellulite reduction technology. For all device pricing, consumables costings, including training, ongoing maintenance and installation, and finance options, contact our Business Development Team or call 1300 10 10 58 to find out more.
CMA also encourages trade-in to option-up, giving you the flexibility and simplicity to grow your client offerings and ROI without delay. Our team of experts help identify the best options and value trade-in opportunities, giving you peace of mind. No matter the model or condition of your current device, you can trade in your eligible aesthetic device for credit towards your next purchase with CMA. Start your journey today!
What is a cellulite treatment?
Often associated with hormonal changes, weight gain, weight loss and genetic disposition, cellulite is common around the thighs and buttocks — but it can also be found on the breasts, lower abdomen and upper arms. While it's a medically harmless condition, its unsightly appearance creates lumps and dimpled flesh that can impact body confidence.
If your clients are unhappy with the appearance and texture of their skin, they may be considering a non-invasive cellulite treatment instead of a lengthy cosmetic surgery. Our cellulite treatment machines' primary aim is to dramatically reduce the appearance of cellulite while simultaneously tightening and smoothing the surrounding skin. These devices include the latest cellulite reduction technology backed by science and clinical trials — so your clients can rest assured they're in safe hands when they opt for this pain-free, non-invasive treatment.
What is the most advanced non-surgical cellulite solution?
Clients no longer need to endure a lengthy surgical procedure to achieve their dream body. With a growing demand for non-invasive treatments and new technological advancements, PowerShape2 is one of the best cellulite treatment devices on the market. Offering multiple treatment applications, this 3-in-1 system combines a range of technologies to deliver thermal energy deep into the dermal layer to reduce the appearance and formation of cellulite — all while tightening and sculpting the surrounding skin.
What is the best cellulite treatment machine?
With so many treatment options, PowerShape2 benefits a variety of patients. It is suitable for all skin types and can be customised to help with facial rejuvenation, body contouring, skin tightening and cellulite reduction. PowerShape2 is suitable for adults in good health who wish to lift, tighten, tone, smooth and firm areas of the face or body without invasive procedures requiring anaesthetic, injections and long-term recovery.
Purchase Body Contouring and Sculpting
Machines from CliniMed Aesthetics Today!
Backed by therapists, clinicians, practitioners, nurses, and aesthetic professionals across Australia,
CliniMed Aesthetics is a leading industry provider of TGA approved body contouring machines.
As Trusted Providers of in-depth, non-invasive aesthetic technology CliniMed Aesthetics are ready to
support & help you enhance your clients' experience in growing your advanced non-surgical
treatment offering, get in touch today!
AUSTRALIAN OWNED & OPERATED